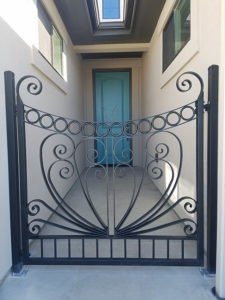 The popularity of a wrought iron fence continues to grow and the same is true for wrought iron railings and gates. This spectacular material can be molded into any design and once installed, it can greatly enhance the overall décor and curb appeal of the property. Below are some of the benefits of using wrought iron around your property:
Low Maintenance and Durable
Wrought iron gates, fencing, and railing are all easy to maintain, requiring only once-in-a-while attention to remove dust. Additionally, they are quite durable and can withstand extreme weather conditions. When compared to vinyl or wood, this type of fencing will last a lot longer. Furthermore, it does not require refinishing every couple of years. In fact, this type of material is designed specifically to last a very long time. The majority of wrought iron is finished to prevent rust.
Visually Appealing
Visual appeal is among the top reasons homeowners choose wrought iron for their property. It provides a timeless and elegant look that can aesthetically enhance your property instantly. Regardless of the style you choose, the look of your property will benefit remarkably from a wrought iron installation.
Strong and Secure
Renowned for its strength and the security it provides, wrought iron is often used as security gates. Additionally, breaking through this type of fencing is quite difficult as the sharp edges on the top will present a challenge for anyone who attempts to climb over.
Incredible Versatility
Wrought iron fencing is available in a number of different styles, ranging from traditional to ornate. It comes in a wide range of designs and sizes and even better, it can be painted in a variety of colors to complement your décor. The material makes for great patio and other fencing options and is a remarkable choice for indoor and outdoor railings and furniture pieces. Wrought iron can be molded into just about any design you can imagine and even ones beyond your wildest dreams. As such, all that is required is hiring a wrought iron expert and collaborate to get the design you desire for your home.